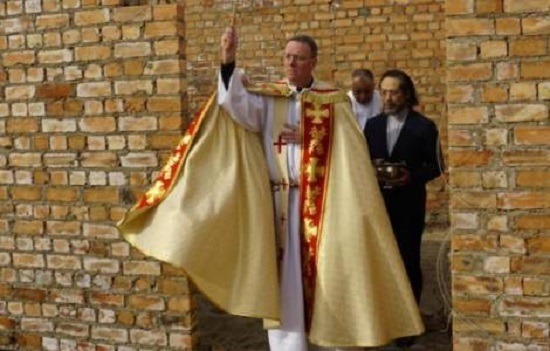 "As a Catholic community in Kyrgyzstan, we are in the hands of the Lord who guides us, to continue planning our apostolic mission activity in the Country. We are experiencing a year of gratitude: 2019, in fact, marks the 50th anniversary of the official registration of our community in northern Kyrgyzstan by the Soviet government. And this year we consecrated a new church in the city of Talas". This is what Jesuit Fr. Anthony Corcoran, Apostolic Administrator of Kyrgyzstan said to Fides News Agency. The new church, explains Fr. Corcoran, is named after St. Nicholas of Flüe, patron saint of Switzerland: "It is the first building designed as a place of Catholic worship. The others, in fact, were already existing buildings that were adapted".
The consecration, which took place in October, was celebrated by Mgr. Athanasius Schneider, auxiliary bishop of Astana, of Kyrgyz nationality. Not only local Catholics took part in the celebration, but also the community of the faithful and the Sisters of Bishkek. The rector of the parish of Talas, Father Alexander Kan SJ, and the Vicar General of the diocese of Karaganda, in Kazakhstan, Father Eugene Zinkovsky were also present.
"The construction of the church was undertaken at the initiative of the then bishop Nikolai Messmer SJ, in 2010. The work was carried out with the help of Catholics from Switzerland and Germany and other charitable organizations, in these and other countries. The Bishop's sudden death in 2016 did not allow him to see the complete work, but now, with the help of God, this long-awaited and desired project has finally come true", concluded Fr. Corcoran.
Today Kyrgyzstan is a small country with a population of almost 6 million inhabitants that enjoys religious freedom. About 90 percent of the population considers themselves Muslim. The Orthodox represent almost 10% of the total, and the other Christian denominations are a small minority. Local Catholics can count on the spiritual assistance of seven priests, a religious and five Franciscan nuns.
https://jesuits.eu/news/1265-new-church-consecrated-in-kyrgyzstan