In Bishkek (Kyrgyzstan), on February 20-25, a youth discussion forum entitled "Unity in Diversity" is organized by the State Commission on Religions of Kyrgyzstan in cooperation with the non-governmental organization "Center for Religious Studies of Kyrgyzstan". A Jesuit, Brother Damian Wojciechowski SJ, takes part in the forum. He appears at this meeting alongside representatives of Islam and the Russian Orthodox Church. Br. Damian, thanks to his in-depth knowledge of various religious traditions and the ability to contact young people, is a highly valued speaker on the forum.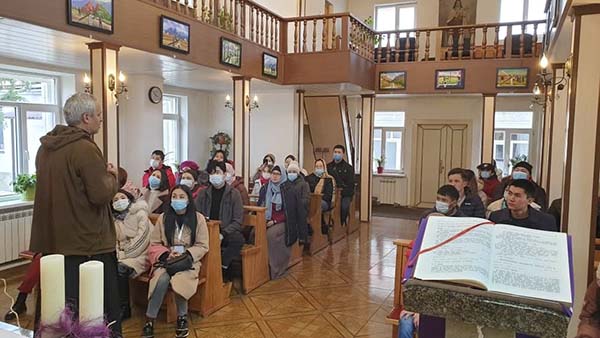 Young people, aged 18-25, who take part in the conferences and meetings, come from seven regions of the country and represent various religions and Christian denominations. "The main goal of this event is to develop young people's knowledge and skills necessary to build interreligious dialogue," say the organizers.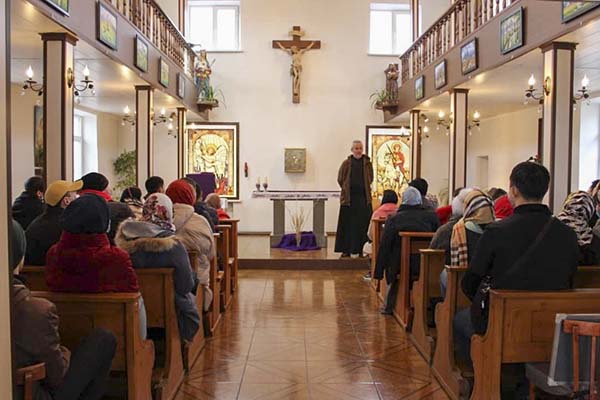 As part of the forum, not only conferences and discussions are planned, but also study visits to various places of religious worship, including the Jesuit parish of Saint Michael the Archangel in Bishkek (photos). The entire project is also an answer to Pope Francis' call to universal brotherhood and to building relationships between people of different religions and with different worldviews.
Kyrgyzstan is a Muslim country and knowledge about Christianity among the inhabitants of this country is very limited. The Jesuits working in Kyrgyzstan, seven of them, try to "create bridges" and introduce people to the history and current activities of the Catholic Church. They run parishes, a foundation and a youth centre in Issyk-kul. They also join various initiatives undertaken by other organizations.
https://jesuits.eu/news/1674-youth-in-interreligious-dialogue